Team Building - Multi Activities
Adventurous explorers have the chance to get off the beaten track and into the jungle with these exciting and challenging activities. This program combines an ATV tour with fun Team Building challenges located in the countryside on the outskirts of Pattaya.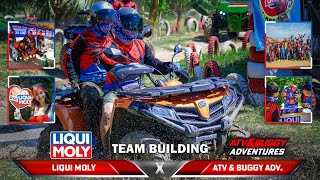 ACTIVITY OBJECTIVES
To encourage positive thinking, motivation and confidence.
To have an exciting, challenging and physically demanding event.
To learn about others under pressure.
To improve trust, cooperation and leadership skills.
To have an enriching, fun and enjoyable time.
To explore the ways teams work together under challenging conditions.
An enjoyable exploration of a new and diverse environment experiencing wildlife and the Thai countryside.
THE EVENT BRIEF
Participants will face a series of team challenges for which they will be required to use a variety of team building skills to be successful. They will need to be creative, innovative and delegate tasks amongst themselves, show leadership qualities and trust each other to perform the tasks. The team that combines all the elements together and executes each objective the best will win the Pattaya ATV Team Building World Champions Trophy!
THE PROGRAM
The group will be divided into 3-4 teams and each team will compete over a series of 3 stations with 5 different activity challenges aiming to collect as many points as possible from each activity. The team with the highest number of points will become the winners! Station One the amazing ATV Tour lasts 1 hour 30 minutes. Station Two Lasts 45 minutes with two different activity challenges and Station Three also lasts 45 minutes with two different activity challenges.
CHALLENGES
OUTDOOR TEAM BUILDING
STATION 1 - ATV RIDE
Each team will be shown how to drive an ATV. Then they will set off on an off-road multi-kilometer adventure through the countryside with the aim for everyone to return to the start within the allotted time. The team with the safest and smoothest and most competent drivers will gain the most points by our guide's judgment. – Duration 90 minutes.
2ND AND 3RD STATIONS
Team Building Activity Stations – Teams Rotate through 4 different activities at 2 stations. Activity 1 and 2 will be combined to be Station Two and activity 3 and 4 will be combined to be the 3rd station. Stations Two and Three will last no more than 45 minutes each. Every activity is designed to test each team's skills and will require communication, planning, strategy and leadership and full group participation to be successful.
Stations
PRICING
From 2,000 - 3,500 THB / person
Exact pricing depends on group size and individual requests.
INCLUDED IN THE PRICE:
Event preparation and planning
Minibus Round trip transportation from Pattaya Area
Event Coordinator from the UK with vast Team Building experience.
English speaking Thai facilitators + Other support staff depending group size
All equipment and materials for the activities
Every participant is guaranteed to drive an ATV or BUGGY
Rider shirts, helmets and goggles provided for the ATV tour
Team colored Bandanas and all necessary activity equipment
Winning team ATV Pattaya World Team Building Champions Trophy
Free photos from our action photographer
Personal Accident Insurance
A post tour lunch consisting of a big deluxe Beef, Chicken or Veggie Burger, Fries and salad at our onsite Thai Sala garden.
Unlimited Soft Drinks and Fresh Fruit at lunch and at every activity station
Ice cold refreshment mini towels
OPTIONAL EXTRAS
If your group would like to upgrade the complimentary post tour deluxe burger, fries, salad and fresh fruit for a spectacular Western BBQ Bonanza and Thai buffet at our onsite Thai Sala garden then this is possible for a surcharge of just 400 THB / person. The BBQ Bonanza consists of Texas BBQ pork ribs, Marinated Spicy Chicken wings, Beef Burgers, Fridge Onions, Pork, Chicken and Beef Skewers, Green Mixed Salads, Tuna/mayo/sweetcorn pasta salad, fresh crusty rolls with imported butter, Egg Fried Rice, Green Chicken Thai Curry and Tom Yam Seafood Soup.
Alcohol at BBQ. (If required please inform us what alcohol you would like us to prepare for your team building post tour BBQ.)
Pro Photographer with fully edited photos = 12,000 THB
Pro Videographer to make an approximate 2 minute professionally edited awesome cinema quality video = 12,500 THB
Prizes for the winning team – (up to your budget)
Vinyl Banner for the Starting Grid - 6 meter w x 1.5 meter h 1,900 baht.
ATV & BUGGY ADVENTURES PATTAYA T shirts = 300 THB / shirt
Event T-shirts with your logo – From 300 THB / shirt
Your Company Logo large Surf flags – From 950 Baht per flag
EXCLUDED IN THE TOUR PRICE:
Any additional requirements requested by the client
7% VAT which will be applied to the final total
Damage to the ATV's caused by accidents
ITINERARY
08.45 am: Transfer from Pattaya Hotel to the event location
09.15 am: Welcome. Group photos and Event briefing by lead facilitator and division of teams and challenge order allocation.
09.30am: Team Building commences and teams rotate through the challenges
11 am: Halfway Point 15 minutes refreshments breaks
11.15 am: Team Building re-commences
12.45 pm: Ice cold mini towels, soft drinks and freshen up
1 pm: Lunch
2 pm: Event debrief and Winning team trophy presentation
2.15 pm: Transfer to Pattaya Hotel
2.45 pm: Arrive back at Pattaya Hotel
Afternoon event options are available starting with a hotel pick up at 1.30 pm.