Team Building in Pattaya Thailand.
ATV & BUGGY ADVENTURES PATTAYA is Pattaya City's only dedicated professional Team Building center with over fifteen years of experience running Team Building events for hundreds of renowned Thai and International companies. Our team-building ATV events are ideal for all companies, those hiring new staff, improving teamwork of existing staff as well as essential "retreats" designed to keep up employee morale by having some good honest fun together as a team.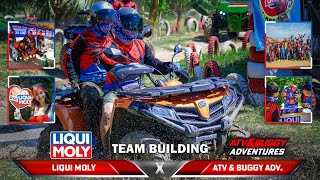 We offer Two types of Team Building options. The first option is our fantastic ATV Tour Team Building event which can cater to groups of up to 60 people. The second option is our awesome Multi Activity Team Building event that can cater to large groups of up to 120 people. The Team Building events duration is approximately half a day and therefore the absolute maximum number of people we can cater for in a day is 240 persons making us the biggest dedicated Team Building venue in Thailand.
Since 2006 here at ATV & BUGGY ADVENTURES PATTAYA we have carried out hundreds of hugely successful Team Building events and we look forward to putting on a spectacular event for your company too!
Our Team building events are especially popular with Bangkok companies who are looking to take their staff away from the smog and concrete jungle for a day or a weekend. We are located just a 90 minutes drive from Bangkok and are able to assist with all extra enquiries and requests. According to your budget we can arrange the right hotel accommodation for your group, transfers, sightseeing, yacht charter, lunch and dinner options and tailor make the perfect getaway break for your company.
Our ATV & BUGGY ADVENTURES PATTAYA Team Building programs are a unique, fun, and challenging experience far superior to standard team building events. Our feedback from both employers and employees is excellent. Firstly the employees are happy that they are doing a fun event that is far more exciting than the standard teambuilding events they have done in the past. Secondly, the employers are happy as they see all of their staff post-tour enjoying a BBQ and laughing together at the trials and tribulations of the off-road experience and the team challenges. Employees that may not have ever talked before in the workplace will now be naturally laughing and chatting together.
FOR MORE DETAILS PLEASE CLICK ON YOUR PREFERRED OPTION:
ATV TOUR TEAM BUILDING
Our ATV tour itself is naturally an awesome team-building experience. With a custom route and a mix of vehicles, everyone is guaranteed to have a great time! The maximum group size we can cater for an ATV Tour Team Building Event is up to 60 people with 30 ATV or BUGGY Riders and 30 Passengers where ATV & BUGGY Riders and Passengers will swap during our frequent water break and photo pit stops. If you have a larger group of more than 60 persons we can split up the ATV Team building tour times with one group in the morning and one in the afternoon.
MULTI ACTIVITIY TEAM BUILDING
For larger groups, it's recommended to choose our awesome custom multi activity options available for up to 120 persons. We will split the group up into 3-4 teams that will compete against each other separately in 5 Challenge stations. Tried and tested events always run like clockwork and are a great mix of Challenge station tasks. The teams will rotate after completing their stations. Each team will need to show strong team player characteristics and vigorously help each other out in order for their team to be crowned the overall winners and receive the prized ATV & BUGGY ADVENTURES TeamBuilding World Champions Trophy!